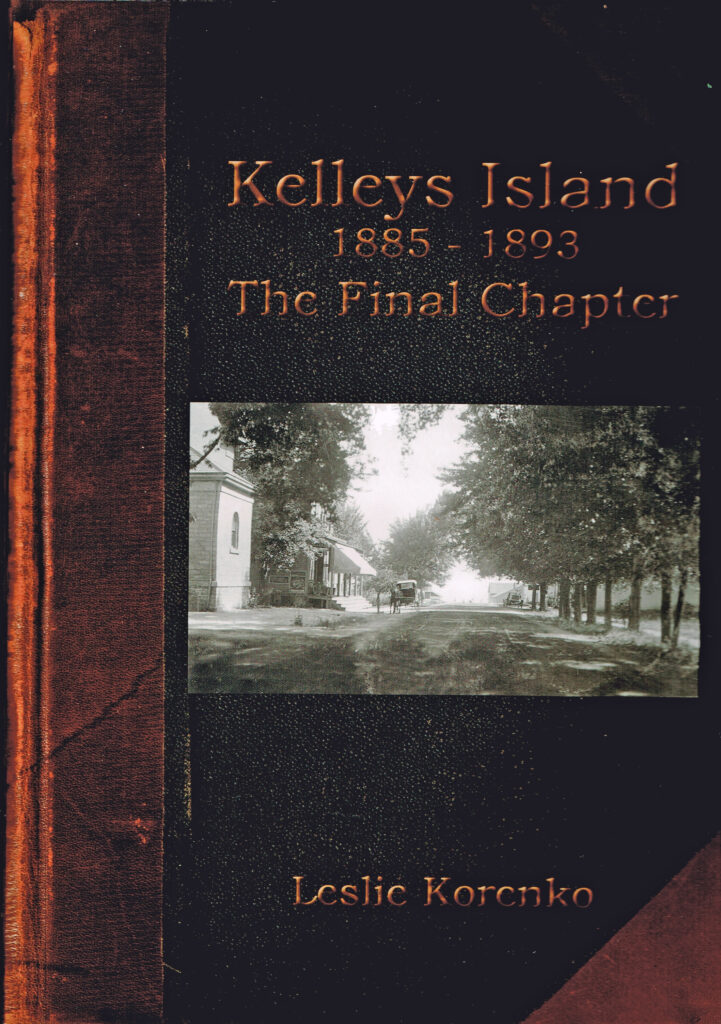 CONTENTS – Here it is – book 6 in the Kelleys Island series
Kelleys Island 1885-1886 – the Final Chapter (which turned out NOT to be the final chapter)
So, what's in THIS book? Here is the Index.
Find your relatives or just explore the varied and extensive topics that appear in this part of the Island's history.
A
A. A. Carpenter; A W Dean Co; A. Wehrle Jr; A. Y. Gowen; Abbot family; Abscess; Acme Lime Burner System; Rose Ada; Catherine Adams; Charles Adams; John Henry Adams; Katie Adams; Mary Christina Adams; Adolph & Zollinger; Adventure; Alaska; Clara K Albain; Fred Albain; Mara Ann Albain; Albany; Frederick Albers; Henry Albers; Louisa Albers; Mary Albers; Sophia Albers; Albert; Frederick Albert; Alert; E W Alexander; John Alheit; John Altians; Orell Altman; American Eagle; American Wine Co; Mrs C J Andres; Annie Andreysco; Joe Andreysco; Annie Andrisco; Joe Andrisco; Mary Andrisco; Ann Anhorn; Mrs Anwander; Apoplexy; Apples; Walter Armstrong; Amanda Arney; Arrow; Arthur; Ashley & Dustin; Asthma; Elizabeth Astoria; Ellen Astoria; Mary Astoria; Mike Astoria; Charles Aufschmid; Avery
B
Baby Ruth; Bachelors' Club of Pittsburg; Baker; Ballast Island; Charles Bamer; Louisa Bamer; Susie Bamer; Eli T Bangs; Bankruptcy; Banner of Light; Barber shop; Barber Smith; Dan Barchie; Catherine Bareis; Katie Bareis; Mary Bareis; Mary Ann Bareis; C F Barker; Barley; Sophia Barnhope; Patrick Barry; Mrs Patrick Barry; Mrs Robert Barry; Robert Barry; Julia Bartche; Mrs Bartchy; Bartsche Wagon Road; Agnes Bartsche; Eliza Bartsche; Elizabeth Bartsche; J Bartsche; Jacob Bartsche; John D Bartsche; Julia Bartsche; Mrs Bartsche; Bartsche's Road; Bartschi; John Bartschi; Base ball; Bass islands; Webster Batcheller; Elizabeth Bauer; Henry Bauer; Bauman boys; Bridget Bauman; Ed Bauman; Edward Bauman; Edwin Bauman; Erwin Bauman; Fred Bauman; Gertrude Bauman; Helen Bauman; John Bauman; Judy Bauman; Kate G Bauman; Katherina Bauman; Maggie Bauman; Samuel Bauman; Thresa Bauman; Ellen Baumann; Anton Baumeister; Hugo Baumeister; Sophia Baumeister; Fred Baumler; John Baumler; Louis Baumler; Bay View Wine Co; Daniel Beattie; Lewis Beattie; Beatty Winery; Andrew Beatty; Anna Marie Beatty; Aurilla Beatty; Caroline Beatty; Carrie Beatty; Christina Beatty; Dan Beatty; Daniel Beatty; Emma Beatty; H C Beatty; Henry Beatty; Jacob Beatty; John Beatty; L Beatty; Laura Mary Beatty; Leslie Beatty; Lewis Beatty; Louis Beatty; Louis George Beatty; Mary Beatty; Michael Beatty; Mrs Louis Beatty; Teana Beatty; Trina Beatty; William Beatty; Beatty's little church; Beatty's wine cellar; Captain Bechsteikn; Becker & Co  Winery; Becker wine cellar; Becker Wine Co; Becker Winery; Amos Becker; Carl Becker; Caroline Becker; Carrie Becker; Clara Becker; Emma Becker; George Becker; Helen Becker; Laura Becker; Lena Becker; Lizzie Becker; Philipine K Becker; W F Becker; Wilhelm Becker; William Becker; William F Becker; William Frederick Becker; Wm. F Becker; John Bednar; Annie Bedner; John Bedner; Lizzie Bedner; Beer; Paul Beltz; Ben Harrison; Benevolent Aid Society; Bennett; Captain J W Bennett; Caroline Berry; Julia Agnes Berry; Johann Ludwig Bette; John Betzeheimer; Alexander Betzenheimer; Emma Betzenheimer; Florence Betzenheimer; Geraldine Betzenheimer; John Betzenheimer; Louisa Betzenheimer; Bicycle; Bicycle races; Conrad Biehl; Gilbert Biehl; Mary Biehl; George Bier; Bertha Biery; John Biery; Rev J Biery; Rev John Biery; Rev Joseph Biery; Oscar Biladeau; Billiard parlor; Bird-carrier pigeon; Bird-gull; Bird-hawk; Mable Bird; Birds; Bishop & Barker; W A Bishop; Bison City quartette; Allie Bittner; Annie Bittner; John Bittner; Anna Bixler; Blacksmith; Aaron Blatt; Bill Blatt; Elisabeth Blatt; Elizabeth Blatt; John Blatt; Norma Blatt; Norma/Norman Blatt; Pauline Blatt; Stella Blatt; Mrs Blessman; H A Blood; Dr  Bloom; Frank Boake; Mary Boake; Miriam Boake; Board of Education; Boarding house; Ice Boat; Andrew Boker; Edward Boker; Frieda Boker; Heinz Boker; Helmut Boker; Hulda Boker; Kurt Boker; Laura Boker; Mary Boker; Otto Boker; W Boker; William Boker; Sophia Bollinger; Emma Bookerman; Fred H Bookerman; George Bookerman; John Boos; Selina Boos; George Borman; Bowel Complaint; W W Bowen; Bowling alley; Al Brady; Brain Coverings; Louisa Bramer; Brandy; M Brannan; Thresio Brannan; Edward Brannen; Maggie Brannen; Mary Brannen; Brass Band; C F Braun; Valentine Braun; Breakwater; Erie PA; Phillip Breining Jr; Fredericka Bremer; Fredrika Bremer; Margaret Bremer; M Bremman; Joseph Brengartner; William Brengartner; Bridget Brennan; Eddie Brennan; Edward Brennan; Frances Brennan; Francis Brennan; Hugh Brennan; Jack Brennan; John Brennan; John Brennan Jr; Johnnie Brennan; Katie Theresa Brennan; Maggie Brennan; Margaret Brennan; Mary Brennan; Michael Brennan; Mike Brennan; Sarah Brennan; Teresa Brennan; Theresa Brennan; Thomas Brennan; Thresio Brennan; Jack Brennan; Adam Brenner; Freddie Brenner; Mary Brenner; Theresa Brennon; Anna Brentgardner; Cecily Brentgardner; William Brentgardner; Anna Brentgartner; Bridge; Bright's Disease; Henry Brinkman; Katherine Brinkman; Rebecca Brinkman; Margaretha Elizabeth Dorothea Brinkmann; A H Bristol; A J Bristol; Addison K Bristol; Clara Bristol; Edna Jennie Bristol; Electa Bristol; G P Bristol; George Bristol; George H Bristol; George P Bristol; Jennie Bristol; Jennie E Bristol; Mrs G P Bristol; Polly Bristol; Brockway; Cecily Broengartner; Bronchitis; Alma Brooks; Albert Brown; Alma Brown; Anna Brown; Anne Brown; Annie Brown; Captain Brown; Captain Geo A Brown; Clifford Brown; David S Brown; Fannie Brown; Florence Brown; Florence C Brown; George A Brown; Howard Brown; Hugh Otto Brown; John Brown Jr; L P Brown; Laurel Brown; Lee Brown; Lee E Brown; Lewis Brown; Lewis P Brown; Lou Brown; Louis Brown; Louis PBrown; Lucia Brown; Mary Brown; O W Brown; Otto Brown; Otto W Brown; Otto William Brown; Rev Brown; Roland Ernst Brown; Sherman Brown; Valentine Brown; Walter Brown; Brown's General store; Elizabeth Bruder; Adam Bruenner; Carl Bruenner; Frederika Bruenner; Brumgartner See Brentgartner; William Brumgartner; Henry Bruns; C Bucas; Buchtel College; Bucket brigade; Buckeye Public Service Co; Alfred Buess; Christ Buess; Christa Buess; Esther Buess; Etta Buess; Henrietta Buess; Henrietta E Buess; John Buess; Lena Buess; Millie Buess; Mina Buess; Minnie Buess; Salina Buess; Susan Buess; Walter E Buess; Wilhelmenia Buess; Wilhelmina Buess; William Buess; Etna Buess; Buffalo; Buffalo NY; Buggy; Charles Bunke; Dorothea Bunke; Fred Bunke; Frederick Bunke; Mrs Fred Bunke; P Bunke; Burger Bros.; Christina Burger; Emma C Burger; J H Burger; John Burger; Will Burger; William Burger; William F Burger; Willie Burger; William Burger; Burger's store; Burglary; Business Men's Association; George Butts
C
C. H. Plummer; C. P. Minch; C W Calkins & Co; Lawrence Cable; C P Caldwell; George W Calkins; Calvin Schneider; Andrew Cameron; Jean Cameron; Jeanette Cameron; Jennie Cameron; John Cameron; M J Cameron; Margaret Cameron; Margaret Jane Cameron; Margaret Jean Cameron; Mrs A Cameron; Mrs Andrew Cameron; Mrs John Cameron; Nettie Cameron; Cameron's cottage; Camp Grant; Camp Kirby; Camp Patmos; Camping; Cancer; Capital Control Inc; Irene Carcas; Carpenter; Alice Carpenter; Alida Carpenter; C Carpenter; Captain Carpenter; Caroline Carpenter; Caroline H Carpenter; Caroline K Carpenter; Charles Carpenter; Charles C Carpenter; Donald L Carpenter; Douglas R Carpenter; Frank Carpenter; Jessie Carpenter; Jessie R Carpenter; Kelley R Carpenter; Lester Carpenter; Mary Carpenter; Mrs Charles Carpenter; Mrs Lester Carpenter; Sarah Dean Carpenter; Carpenter's Grove; Carpenter's Point; Carpenter's wine cellar; Carriage stones; Carriages; Carrie Lewis Co; Carrie Louis Co; Carrie Louis Dramatic Co; Carroll; Rev C W Anna Casey; Annie Casey; Bridget Casey; Katherine Casey; Katie Casey; Kittie Casey; P Casey; Patrick Casey; Casino; Myron J Caswell; Catarrh; Catawba; Catawba Island; Catawba Jr; Carl Cattanach; H F Cattanach; Hugh Cattanach; Hugh F Cattanach; Jane Cattanach; Martha Cattanach; Mary Jane Cattanach; Hugh Cattanaugh; Hugh Cattenach; Cattle; Coomassie Cattle; Farmers' Glory Cattle; Cattle; Happy Gold Coast; Cattle; Hazen's Bess; Jersey Cattle; Cattle; Lebrov's Prize; Cedar Point; Cedar Point Co,Dagmar Celeste; Richard Celeste; Cemetery; Cemetery folklore; Census; Helen Chabala; John Joseph Chabala; Michael Chabala; Anna Chalmers; Champagne; Champagne cellar; Adams Charles; Charlottte Charlotte; Chauncey Huribut; Checkers; Cherries; Chicago Worlds Fair; Chief Justice Waite; Capt C E Chilson; Mrs Henry Chisholm; Mrs William Chisholm; Stewart Chisholm; Cholera Infantum; Cholera Morbus; Paulina Christ; John Christgo; Christian Herald; Astoria Christian; Fannie Christofel; Fannie C Christofel; Angelical Church; Catholic Church; Community Church; Congregational Church; Congregational bell Church; English Congregational Church; Evangelical Church; German Church; German Evangelical Church; German Reformed Church; Methodist Church; Reform Church; St Michael's Church; Zion United Methodist Church; Cider; Cigars; Cistern; City of Alpena; City of Cleveland; City of Detroit; City of Rome; City of Sandusky; City of the Straits; Alvin Clark; Diodate Clark; George Cleary; Jeanette Cleary; Captain Clemens; John Clemons; Cleveland; Cleveland breakwater; Cleveland Paper Co; Cleveland Rolling Mill; Cleveland Underwater Explorers; Cleveland water works; Co  K 130th OVI; Coal; Coal oil; Coe Ridge; F W Coggswell; Fannie Coggswell; M Coggswell; Cogswell & Hubbard; F W Cogswell; Frederick W Cogswell; Julia Cogswell; Col Cook; William Coles; Clinton R Colgate; Collector of Customs; Collins & Houghten; Collins & Hougton quarry; Capt E R Collins; Captain Collins; Carlie Collins; Carrie Collins; E F Collins; E R Collins; E T Collins; Edward Collins; Edward F Collins; Edward R Collins; Frank Collins; Frank Edward Collins; Jane Collins; Jennie Collins; Lee Sanford Collins; Mrs E F Collins; Sarah Jennie Collins; Columbus Asylum; Columbus Day; Congestion Chills; Connelly; Katherina Gertrude Connor; Katie Connor; Katie G Connor; Constable; Consumption; Fred Cook; Isaac Cook; Cooper shop; Coopers; Corn; Cornell University; Mary Coughlin; John Coulter; Elisabeth Coussins; Jenny Coussins; Robert Coussins; Adolphes Coutcher; Isiah Coutcher; January Coutcher; John Coutcher; Julia Agnes Coutcher; Lizzie Coutcher; Cow; Coy place; Cracker Hill; Arthur & Ella Crane; William Crotser; Drainage Culvert; Curculio; Cindy Curilla; Ed Curilla; Customs; Customs House; Dwight G Cutlar; D G Cutler; Dwight G Cutler
D
D & I Kelley; D P Rhodes; D W Cushing; Dahlonega Nugget; Elisabeth Dahm; Elizabeth Dahm; Bridget Ellen Daily; Honora Daily; Michael Daily; Dakota; Honora Daley; Maggie Daley; Michael Daley; Honora Daly; Honorah Daly; Mary Daly; Michael Daly; Mike Daly; Minnie Daly; Anna Damsick; Dan Connelly; Dan Kunz; Anna Dancick; George Dancick; Lena Dandron; Louis Dandron; Annie Danicek; George Danicek; Edward E Day; Robert L Day; A K Dean; Anna Dean; Arthur W Dean; Clara Dean; Eliza Dean; Ella Dean; Jennie Dean; Jerry Dean; John Dean; Lucius Dean; Mabel Dean; Marcella Dean; Oscar Dean; Oscar & Anna Dean; Sarah Dean; Mary Dearbach; Deck & Andres; Decoration Day; George Deinck; Rev DeKay; Rev Geo DeKay; Delaur & Debrimont; Delco electric system; Anna Dementer; Anna Dementor; Dentist,Denver Colorado; Caroline Denzer; Catherine Denzer; G W Denzer; George W Denzer; Harry C Denzer; John W Denzer; Louisa Denzer; Deputy Collector; Arnold Deringer; Theodore J Deringer; Maria Derringer; Diamond drills; John Dickey; Mike Dickey; Delilah Dieffenbach; Jacob Dieffenbach; Jennie Dieffenbach; Jennie E Dieffenbach; Junie Dieffenbach; Mina Dieffenbach; Minnie Dieffenbach; Mrs J Dieffenbach; Dietsche; Delilah Diffenbach; Jacob Diffenbach; Minnie Diffenbach; Mrs Diffenbach; Mary Diffley; Peter Diffley; William Diffley; Diphtheria; Augusta Dischinger; Dischinger; Fred Dischinger; Fridolin Dischinger; Laura Dischinger; Mamie Dischinger; Mary Emma Dischinger; F Dishinger; Fred Dishinger; Mrs F Dishinger; Jerome Allen Ditchey; John Ditchey; Julia Ditchey; P Ditchey; Peter Ditchey; Ditchy Bros; Clair William Ditchy; Jay Carl Ditchy; John Ditchy; Julia Ditchy; Peter Ditchy; Division Street; Divorce; Annie Dobarawark; Mike Dobarawark; Carpenter's Dock; elevated Dock; Koster's Dock; N Kelley & Co  Dock; Neuman's Dock; Norman Kelley dock; north Dock; North Dock; north side Dock; pocket Dock; Reinheimer's Dock; South side Dock; steamboat Dock; stone Dock; west Dock; West Bay Dock; Wine Dock; Wine Co  Dock; Doctor; Doctor's House; Doctor's office; Indian Doctors; Otto Dodge Jr; Otto Dodge Sr; Dodge Winery; Catherine Dodge; Charles Dodge; Emma Dodge; Emma Sophia Dodge; Henrietta Dodge; Henry Dodge; Irma Katherine Dodge; Kattie Dodge; Lee Otto Dodge; Otto Dodge; Sophia Dodge; Dogs; Hon Valentine Doller; James Doonah; Ellen Doran; Johanna Dordel; Ellen Dorn; Rev Dornbier; Christina Dosterheft; Dow law; Dow tax; Dropsy; Duck hunting; Nicholas Duffy; May Dugan; Katie Duignan; Mary Duignan; Patrick Duignan; Tom Duignan; Judy DuShane; Jane Dusseau; A Duysing; A P Duysing; A F Duysing; Anton Duysing; Jennie Duysing; Jennie A. Duysing; Margaretta Duysing; Mrs Duysing; Nellie Duysing; Williams Dwelle &; Addie Dwelle; Alonzo Dwelle; Alonzo B Dwelle; Amelia Dwelle; Anna Dwelle; Anna Amelia Dwelle; B F Dwelle; Benjamin F Dwelle; Bertha Wilhelmina Dwelle; C B Dwelle; Capt A Dwelle; Captain Dwelle; Charles B Dwelle; Edna Dwelle; Emily/Eurella Dwelle; Emma Emilia Dwelle; Fannie Dwelle; George Dwelle; H E Dwelle; Harriet Dwelle; Hubbard Dwelle; Hubbard E Dwelle; J T Dwelle; Jared Dwelle; Jared T Dwelle; Jessie Harriett Dwelle; Leslie Mark Dwelle; Lydia Dwelle; Mary Dwelle; Mina Dwelle; Minnie Dwelle; Mrs S S Dwelle; Nelson Dwelle; Norman Dwelle; Ralph Dwelle; Rose Dwelle; S S Dwelle; Sylvester S Dwelle; Wilhelmina Dwelle; Dynamite; Dysentery
E
E. C. Roberts; Eagen & Wall Co; Eagle; Earthquake; Eden Musee Co; William Eggers; Eggs; Fr Joseph Ehrbar; Rev Joseph Ehrbar; H A Eldred; Election; Electric lights; Electricity; Fred Elfer; Elfer's store; Elfers hotel; Elfer's store; Arnold Elfers; Fred Elfers; Frederick Elfers; Gustav Elfers; Helen Edith Elfers; Henry Elfers; Henry Elfers Jr; Herbert Elfers; Mail carrier  Elfers; Marshall Elfers; Mary Elfers; Mrs Fred Elfers; Nellie Elfers; Sophia Elfers; Walter Elfers; William Elfers; Eliza; Eliza Gerlach; Ella G; Nellie Ellis; C E Ellithorpe; George T Elmer; Fred Elminger; Mr Elminger; Barbara Elmlinger; F Elmlinger; Fred Elmlinger; Elmore OH; Ely; Mary Emlinger; Emlinger's shoe store; Empire; Eliza Endermule; Elizabeth Endermule; Eliza Enelrmulle; Bina Engel; Chris P Engel; Eliza Entermill; Epilepsy; Gottlieb Epple; Erie; Erie County Agricultural Society; Erie County Orphan Asylum; Erie Echo; Erie Glee Club; Amanda Erne; Carl Erne; Charles Erne; Fredelena Erne; Julia Amanda Erne; Robert Erne; Roy Erne; Lena Erney; Christina Ernst; Erysipelas; Estes school; James Estes; Mrs Estes; Etruria; Euchre; Eva Margarete; Evangelical Assoc of North America; Exchange; Express office; Extract of Gallixir
F
F Kelley & Co; F. L. Jones; F. X.; Fair Lane; Mary Falan; Mary Falenkenhan; Ellen Fallen; August Fann; Clara Fann; Dr  George C Fann; George C Fann; Ina Christiana Fann; Charles Farciot; Charles W Farciot; Louisa M Farr; Aurelius Farr; Favorite; Fayette; Charles A Feaga; Elizabeth Feaga; Jesse E Feaga; Jessie Feaga; Lizzie Feaga; Lizzie Feagal; Anna Maria Featherson; Christian Featherson; Balbina Fedderson; Bina Fedderson; Christ Fedderson; Christian Fedderson; Earle Freddie Fedderson; Mary Fedderson; Mary Ann Fedderson; Rose H Fedderson; Mary Ann Federson; Feick Brothers Sandusky; A Feick; George Feick; Charles Ferguson; Ferret; Ferris; William Feterson; Gary Finger; John Finkbeiner; Fire Lands Historical Society; Fischer Winery; Carl Fischer; Charles Fischer; Charlotte Fischer; Elmer A Fischer; Sophia Fischer; Fish; Fish boxes; Fish Hatchery at Put-in-Bay; Fish house; Fish Point; Fish shanty; Fish-bass; Fish-black bass; Fish-Black bass; Fish-blue pickeral; Fish-blue pike; Fish-Carp; Fish-Cisco; Fish-drum; Fish-German Carp; Fish-gill nets; Fish-herring; Fish- Pickerel; Fish-salted; Fish-sauger; Fish-smelt; Fish-sturgeon; Fish-walleye; Fish-white; Fish-yellow perch; Charles Fisher; Charley Fisher; Leona Fisher; Sophia Fisher; Fishermen; Fishing; bass Fishing; Fishing-gill net; Ice Fishing; Fishing-ice shanties; Fishing-net floats; pound Fishing; trap net Fishing; Fishing twine; Fishing twine shanty; Fishtown; Fitzhugh; William Flemming; Flint stone; Flying Jib; Judson & Anderson Flynn; Annie Foley; Bridget Foley; John Foley; Margaret Foley; Marie Foley; Mary Foley; Anna Folley; John Folley; Mary Folley; Henry Ford; Forest City Ice Co; Sarah Fouzer; Captain Fox; Roy Fox; Fox's dock; Frank E. Kirby; Franz Siegel; Clara Frazier; Fred Kelley; Freezer; Fresno California; Rev Friebling; William Frieholin; Frogs; Fruit & Wine Growers; Fruit trees; Alf Fues; Adeline Fuller; George Fuller; Mamie Fuller; Martha A Fuller; Mary Fuller
G
G A R; McMeens Post; Annie Gablesh; Gager & Gamble; Conrad Gahn;  Galatea; Garden City; Gas pumps; George E Gascoyne; Gawne; Gazelle; Peter Gegelick; E F Gehrkens; Fred Gehrkens; Mary Gehrkens; Ed Gehrkins; H F Gehrkins; General Gilmore; General Store; Eliza Genwashing; Geo. W Nichols; George Clinton; George Irving; George Spenser; Georgia Press Association; C Gerald; Chris Gerber; Christ Gerber; Christian Gerber; Elisabeth Gerber; Eliza Gerber; Emma Gerber; Frederick Gerber; Minnie Gerber; William Gerber; Willie Gerber; Chris Gerber; Edward Gerber; H Gerlach; Henry Gerlach; Henry A Gerlach; Henry R Gerlach; Irving Gerlach; Lester H Gerlach; Lydia Gerlach; Mary Getzmann; Michel Getzmann; Nash Getzmann; Mary Gherkins; Gibralter; Cornelia Gilda; Gill nets; Gillard's sanitarium; Gilmore; Maria Gimber; Mary Gimber; Gin pole; Givvie; Glacial Groove-Harvard College Museum; Glacial Groove-Oberlin library; Glacial Grooves; Glacial Grooves-Public Square; Glacial Groove-Western Reserve Historical Society; Glacial Groove-Younglove's residence; Glass ball shoot; Golden Eagle Resort; George Golick; Mary Golick; Good Hit; Good Samaritan Hospital; Goodhit; Goodwin & Hull; Homer Goodwin; Anna Gorman; Bill A Gorman; John Gorman; Mary Gorman; Walter Gorman; Gowen; C E Gowen; Caleb E Gowen; Charles Graefe; Dr  Graefe; Dr  Graham; Grand Army of the Republic; Grape baskets; Grape crop; Grape curculion; Grape grinder; Grape Growers' & Wine Association; Grape Growers' Association; Grape harvest; Grape picking; Grape press; Grape pressing; Grape rot; Grape rot-bagging; Grape tariff; black Grape; Catawba Grape; Concord Grape; Grape crop; Delaware Grape; Elvira Grape; Hartford Grape; Isabella Grape; Ives Grape; Malaga Grape; Grape mildew; Norton's Virginia Seedling Grape; Schraidte Grape; Grape crop; shipping Grapes; Grapesprit; Gust Graves; Great Lakes Historical Society; Great Western Band; Green Island; J F Greene; Greenhouse; Thomas Griffith; Edward Grodi; George Grodi; Salong Grodi; Grooves; John Guerin; Annie Gulick; George Gulick; John Gulick; Mary Gulick; Gull Island reef; Gun club shoot; Gunpowder; Eilene Guy; Anna Guzi; John Guzi; Maria Guzi
ORDER YOUR COPY HERE
H
H. C. Cleveland; H. Houghten; H. Houghton; H. P. Murray; Don Haas; Elizabeth Haggerty; P W Hahn; Maria Haines; Mary Haines; John Haise; Ann Haley; Edward Haley; Eliza Haley; Elizabeth Haley; Father Haley; Fr Charles Haley; John Haley; Joseph Haley; M Haley; Maggie Haley; Margaret Haley; Mary Haley; May Haley; Mrs John; Haley; Hall Shed; Hamilton estate; Hamilton House; Hamilton Winery; A Hamilton; Addison K Hamilton; Addison Kelley Hamilton; Bertha Hamilton; Catherine Hamilton; Clayton Hamilton; Dean Hamilton; Elbert Hamilton; Eliza Hamilton; Elzina Hamilton; F C Hamilton; Florence Hamilton; Florence H Hamilton; Frank Hamilton; Frank C Hamilton; Fredrena Hamilton; Hattie Hamilton; Howard Hamilton; James Hamilton; Jane Hamilton; Jeanette Hamilton; John Hamilton; Katherine Hamilton; Mrs Elbert Hamilton; Mrs Wilson Hamilton; Raymond Hamilton; Robert Hamilton; Robert Nelson Hamilton; Roy Hamilton; Samuel Hamilton; Sarah Hamilton; Sabra Hamilton; T Hamilton; T C Hamilton; Titus Hamilton; Titus C Hamilton; W S Hamilton; William Hamilton; Wilson Hamilton; Wilson S Hamilton; Barbara Hamman; Hancock Wood Electric; Hand-cuffs; Handy Boy; Barbara Hangatsi; Mary Hangatsi; Stephen Hangatsi; Anna Hansan; Anna Hansen; Anna F Hansen; Mary Anna Hanser; Michael Hanser; Paulina Hanser; Anna F Hanson; Charles Hanson; Miss H E Harryman; John Hartman; Harvard University Law School; Anna Harvey; Clarence R Harvey; James Harvey; Janet Harvey; Margaret Harvey; Leslie Harvey; Mrs James Harvey; W M Harvey; William Harvey; George Hasenpflug; Will Hasting; Adela Hauser; Albert A Hauser; Catherine Hauser; Ellen Hauser; Emma Hauser; Frank Hauser; Franklin Hauser; Henry Hauser; Jacob Hauser; Jake Hauser; John Hauser; Katherine Hauser; Lena Hauser; Minnie Hauser; Mrs Frank Hauser; Paulina Hauser; Hawley; Hay; Hayes; Anna Hayes; Annie Hayes; Ellen Hayes; Jacob Hayes; Lucy Hayes; N Alberty Grant Hayes; Nannie Hayes; Nannie V Hayes; Mary Haynes; Nannie V Hays; Hearse; Heart disease; James Heating; C H Heaton; Emma Heckel; August Heckerman; G Heinrich; A J Henderson; Andrew Henderson; Andy Henderson; Aurel Henderson; Carrie Henderson; Orell Henderson; Walter O Henderson; Henry K Henkelman; Henry Douglass; Henry Houghton; Henry Lay & Co; Herald of Progress; Hercules; Hernia; Hero; G E Herrick; Hess Winery; H Hess; Herman Hess; Elizabeth Hesse; Herman Hesse; Louisa Hesse; Sarah Jennie Heylman; Daniel G Heylman/Heylmun; Charles Hickox; Charles C Hickox; Mr Hicks; Elizabeth Hill; Jennie Hills; Norman Hills; Ruth Hills; Himmelblau House; Himmelein Hotel; Himmelein House; Himmelein House Hotel; Anna Himmelein; Arthur Himmelein; Charles Himmelein; Charlie Himmelein; Dorothy Himmelein; Elisabeth Himmelein; Fred Himmelein; Jennie Himmelein; Jessie Himmelein; Johanna Himmelein; John Himmelein; John A Himmelein; Richard Himmelein; Mrs T Himmelein; John Himmelein; Charley Himmeleine; Mary Hinds; Leonard Hipp; Hiram College; U L Hird; U W Hird; Historical Society of Cleveland; L Hofer; Charles Hofschmidt; Ana E Holbrook; Charlotte Holbrook; Emily Ward Holbrook; Ernest Holbrook; Ernest H Holbrook; Martin Holbrook; L E Holden; George Holloway; Home; Jacob Honecker; John Honecker; Hoover & Woodward; F E Hoover; Henrietta Hopp; Horse; E R Horton; Hotel; Hotel Victory; H Houghten; Frank Houser; Jack Houser; Hattie Houtcher; Garrett Howard; Nelson Howlett; Hoyt; Dustin & Kelley; C L Hubard; Hazel Huber; Lewis Huber; Louis Huber Jr; Minnie Huber; Vern Huber; Wilhelmenia Huber; Wilhelmina Huber; Annie Hudascheck; Hudson; Hughes Bros & Bangs; Clayton Hughes; George J Hughes; Hannah Hughes; John Henry Hughes; Laura Hughes; M Hughes; Mary Hughes; Mary Augusta Hughes; Michael Hughes; Mike Hughes; L W Hull; Hungarian; Barbara Hungash; Steve Hungash; Huntington Lane; Huntington Road; DK Huntington; Daniel Huntington; E Huntington; E C Mrs Huntington; E K Huntington; Elzina Huntington; Emeline Huntington; Emeline K Huntington; Erastus Huntington; George Huntington; George C Huntington; Mary Huntington; Mary S Huntington; Mr Huntington; Mrs Huntington; Mrs D K Huntington; Mrs E Huntington; Mrs E H Huntington; Mrs E K Huntington; Mrs S Huntington; Mrs S A Huntington; Phanie Huntington; Ruth Huntington; S A Huntington; Simon Huntington; Simon A Huntington; Stella Huntington; Huntington's Lane; Huntington's store; Amelia Hupp; Hurd vs Romeis; Burt Hurd; Frank Hurd; Mrs U W Hurd; Rose Hurd; Sheldon M Hurd; U W Hurd; William Hurd; Huron Lime Co; Abbie Hussy
I
I. N. Foster; Ice boat; Ice bridge; Ice cream; Ice cream festival; Ice cutting; Ice fishing; Ice house; Ice man; Ice Skaters; Ice skating; Ina; Incubator quarry housing; Indians; Infirmary; Inflammation; Inflammation of the liver; Influenza; Ingersoll-Sergeant gadding machines; Mrs Frank Inglis; Ingwerson; Inker; Insane; Inscription Rock; Intoxication; Intussusception; Irene; Iron clad boat; Iron clad mail boat; Iron horse; Iron tariff; Iroquois; Island House; Island Queen; Island Queen Champagne; Isle St George; Italian quarry workers; Barbara Iucker; Bertha Iucker; Eliza Iucker; Rudolph Iucker
J
J A Koch & Co; J E Gilmore; J H Richards; J H Shrigley; J K Secor; J M Spaulding; J N Porter; J Short; Jack Frost; Jail; James R Barker; Jay Cooke; Michael Jenkske; Robertson Jessie; Jim Sheriffs; John E Monk; John Jewett; John McGee; Johnny Monk; Joseph Johnson; Paul & Beverly Johnson; Johnson's Island; Johnson's Island Confederate prison; Emma Jordan; Henerich Jordan; Henry Jordan; Johanna Jordan; William H Jordan; George Jordon; Caroline Jorski; Ed Jorski; Jovial Dramatic Club; Mr Joyce; Bertha Jucker; Lizzie Jucker; Rudolph Jucker; Julia; Julia Willand,Julia Willard; Julia Williard; Alberta Julian; Eugene A Julian; Jumbo flour; Fredrika Jungman; Frederika Jungmann; Justice of the Peace
K
K. Sicken; Karl Kaempfe; Kamp Kellile; Kamp Kirby Kampers; Barbara Kandy; Kansas; Larned Kansas; Leavenworth Kansas; Kastning Winery; Anna Kastning; Anne Kastning; Annie Kastning; Clifford Kastning; Emma Kastning; F Kastning; Frederick Kastning; K Kastning; Lydia Kastning; Martha Kastning; Martha B Kastning; Mary Kastning; Roe Kastning; Sophia Kastning; William Kastning; Katsur; Elizabeth; Anna Keating; Annie Keating; Edward Keating; James Keating; John Keating; Leonard Keating; Maggie Keating; Margaret E Keating; Mary Keating; Mary Caroline Keating; William Keating; Annie Kebliss; Susie Kebob; C C Keech; Bridget Keeley; Bridgit Keeley; Eliza Keeley; Elizabeth Keeley; John Keeley; Mary E Keeley; Michael Keeley; Moses Keeley; Mrs Keeley; George Keifer; Kelley & Stearns; Kelley Island Quarry & Lime Co; A Kelley; A S Kelley; Addison Kelley; Alfred Kelley; Alfred S Kelley; Angeline W Kelley; Ann Kelley; Ann M Kelley; Baby Jean Kelley; Caroline Kelley; Chester C Kelley; Datus Kelley; Douglas O Kelley; Edward Datus Kelley; Elizabeth Kelley; Everett Kelley; F & H Kelley; F M Kelley; Fannie Kelley; Frank Kelley; Frank M Kelley; Freddie Kelley; Frederick Kelley; Fredrena Kelley; G A Kelley; George Kelley; George J Kelley; Gus Kelley; Gus A Kelley; Gustavis Kelley; Gustavis A Kelley; H A Kelley; H C Kelley; Hanna Kelley; Hannah Kelley; Hannah F Kelley; Harriet Kelley; Henry Kelley; Henry C Kelley; Henry Clay Kelley; Herman Kelley; Herman A Kelley; Horace Kelley; Irad Kelley; Irving W Kelley; Jean Kelley; Julius Kelley; Laura Elizabeth Kelley; Louisa Kelley; Marcella Kelley; Marcella D Kelley; Margaret Kelley; Margaret J Kelley; Margaret Jean Kelley; Margaretta J Kelley; Martha Kelley; Mary Kelley; Mary B Kelley; Mary H Kelley; Maud Kelley; Maude Kelley; Mike Kelley; Mrs A S Kelley; Mrs A W Kelley; Mrs Addison Kelley; Mrs Alfred S Kelley; Mrs Frank Kelley; Mrs George Kelley; Mrs Julius Kelley; Mrs Norman Kelley; Mrs W D Kelley; N Kelley; Kelley; N & Co; Norman Kelley; Kelley; Norman & Co; S Kelley; S A Kelley; Sara Kelley; Sterling Herman Kelley; Susie Kelley; W D Kelley; W D Kelley Jr; Will Kelley; William Kelley; William D Kelley; William D Kelley Jr; Kelley's Hall; Kelley's Island & Sandusky Cable Telegraph Co; Kelley's Island & Sandusky Telegraph Co; Kelley's Island Brass Band; Kelley's Island Cable Co; Kelley's Island Club; Kelley's Island Dock & Steam Boat Co; Kelley's Island Lime & Stone Co; Kelley's Island Lime & Transport Co; Kelley's Island Lime Co; Kelley's Island Mission; Kelley's Island Quarry & Lime Co; Kelley's Island Wine Co; Kelley's Island Brass Band; Kelleys Island Chamber of Commerce; Kelleys Island Historical Association; Kelleys Island Inventors Inc; Kelley's Island Lime & Quarry Co; Kelley's Island Lime & Transportation Co; Kelley's Island Quarry & Lime Co; Kelleys Island Waterworks; Kellstone Inc; Kellstone Quarry; Mr Kendrick; Mr Kendricks; Ellen Kennedy; J J Kennedy; John Kennedy; M Kennedy; Margaret Kennedy; Mary Kennedy; Mathias Kennedy; Matt Kennedy; Michael Kennedy; Michaila Kennedy; Mrs Kennedy; Nellie Kennedy; William Kennedy; Mr Kessler; Caroline Kiefer; Catherine Kiefer; Frank Kiefer; Georgia Kiefer; Magdalena Kiefer; May Kinaver; E B King; Major E B King; Edith Kinnie; Erma L Kinnie; John Kinnie; Kirby; Frank E Kirby; Henry Kirby; Alice Kirk; William Kirk; Anna Klaholz; C Klaholz; Conrad Klaholz; D Klaholz; Rev C Klaholz; Rev J Klaholz; Annie Klancyk; Michael Klancyk; Amelia Klank; Ernst William Klank; Gustave Klank; Henrietta Klank; Anna Klotsic; Mary Klotsie; Mike Klotsie; Emma Knape; Barbara Mary Knauer; Frank Knauer; Elizabeth Knesic; Ilko Knesic; Illa Knesic; John Knesic; Knights of Island Tent No. 82; Knights of St John; Knights of the Maccabees; Mary Knosic; Michael Knosic; Alexander Knowlton; Barbara Koch; Jacob A Koch; Emma Koeber; Addie Koehler; Elisabeth Koehler; Elizabeth Koehler; Flora Koehler; John Koehler; John A Koehler; Lizzie Koehler; Jennie A Koelzer; George Kokina; John Kokinda; Barbara Kondic; Julia Kondick; Mary Kondick; Steve Kondick; Julia Kondik; Mike Kondik; Steve Kondik; Misses Koos; Bruce Korenko; Mrs H Koser; M Kossin; Amelia Koster; Amelia S Koster; Catherine Koster; Christina Koster; Clara Koster; Harmon Koster; G H G Koster; Herman Koster; J F Koster; John Koster; Katherine Koster; Kittie Koster; Mrs H Koster; Mrs Harmon Koster; Sarah Koster; Sophia Koster; Koster; William E Koster's Dock; Koster's wine cellar; Koster's Winery; KOTM; Joe Koture; Susie Koture; Louis Kramb; Theresa Kramb; William Kramb; Elizabeth Krechon; John Kreidler; John Krupp; Mathilda Krutzinger; Edward Kuchar; Kuebeler Brewery; Rev Christian Kuenzli; Kugler & Marquart; Luther M Kumler; Kunz & Johnson; Kunz & Johnson quarry; August/Adolph Kurtz; Caroline Kurtz; Charlene Kurtz; Christ Kurtz; John Kurtz; John Robert Kurtz; Paulina Kurtz; Philip Kurtz; Sarah Kurtz; Sigmond Fred Kurtz; Caroline Kurz; Christian Kurz; Hattie Kutcher; Lizzie Kutcher
L
L & M Railroad; L B Johnson & Co; La Grippe; D Ladd; Patrick Laden; Ladies of the Maccabees; Ladies' Sewing Society; LaFarge Quarry; LaGrippe; Knut Lahrs; Lake Erie Electric Cooperative; Lake Erie Fruit & Wine Growers' Assoc.; Lake Erie Fruit & Wine Growers' Association; Lake levels; Lakeside Ohio; Lakeside & Marblehead Railroad; Lakeside Base ball team; Eliza Lambur; John M Lambur; Lange Winery; Anna Maria Elizabeth Lange; Balbina Lange; Charles Lange; Charles J Lange; Elizabeth Lange; Emma Lange; Emma Henrietta Lange; Emma Sophia Lange; F W Lange; Frances Lange; Francis Joseph Lange; Frank Lange; Fred Lange; Frederick Lange; Frederick Wilhelm Lange; H J Lange; H P Lange; Henry Lange; Henry P Lange; J H Lange; Jessie F Lange; Johann Hendrick Wilhelm Lange; Johann Wilhelm Lange; Johanna Maria Lange; John Lange; Lange; John H John Henry Lange; John W Lange; Katharina Maria Lange; Kattie Lange; Lizzie Lange; Maria Lange; Mary Lange; Mrs Henry Lange; Orville Lange; Sara Lange; Sarah Lange; Sarah Rebecca Lange; Theodore G Lange; William John Lange; Margaret LaPont/LaPlante; Larned Kansas; Mrs LaRock; Mathilda Lauer; Mr Laundum; Lawn mower; Lay & Co; Lay Bros; Martin Layden; Patrick Layden; Leamington Canada; Julia Legere; Leiderkranz Singing Society; Lem Elsworth; Lena Knoblauch; Joe & Angela Leo; Charles Leonhardt; Christian Leonhardt; Elizabeth Leonhardt; Elsie Leonhardt; Mary Leopard; Mary A Leopard; Mary Leopardt; Leroy Brooks; John Lesco; Carl Levey; Levioe [Lee] Levey; Rupert Levick; Charles Levy; Carl Lewwe; Carl Frederick Lewwe; Charles Lewwe; Charlotte Lewwe; Earl Lewwe; Lottie Lewwe; Ann Leyden; Anna Leyden; Bridget Leyden; Ellen Leyden; John Leyden; Maggie Leyden; Martin Leyden; Mary Leyden; Mathis Leyden; Michael Leyden; Michael ALeyden; Patrick H Leyden; Anna Lickas; Annie Lickas; Ed Lickenbach; Life-saving station; Lightning; Lima Locomotive Works; Lima Machine Works; Lime; Lime kilns; Limestone analysis; C Lincoln; C M Lincoln; Colonel Lincoln; Colonel M Lincoln; Cornelius Lincoln; Elizabeth Lincoln; Emmett Lincoln; J Lincoln; Joseph Lincoln; Lizzie Lincoln; Marion Lincoln; Meda Lincoln; Virginia Lincoln; Frank Lindon; Anna Maria Link; Mary Link; Mary Ann Link; Mr Link; Edward Linkenbach; Mary Lippert; Liquor; bootleg; Liquor-still; Lock up; Locomotive; The Lodge; Berman S Lodick; Lone Star; Long Point; Look Out; LOTM; Carrie Louis; Miss Louis; Louise; LS&MS Rail Road; Chris Luetjens; Christ Luetjens; Christoph Luetjens; Rosa Luetjens; Anna Luhik; Anna Lute; Mary Lute; Michael Lute; Annie Lutor; Dementor Lutor; Mary Lutor; Lyceum League of America; Conrad Lynch; Eliza Lynch; Ellen Lynch; Moses Lynch
ORDER YOUR COPY HERE
M
M. A. Hanna; M. Tuttle; Daniel Maag; Daniel F Maag; Elizabeth Maag; Elmer H Maag; Fredericka Maag; Frederika Maag; Fredrika Maag; George Maag; Maccabee Hall; Maccabees; Captain Maddigan; Captain Magle; Elizabeth Maher; Kate Maher; Mail carrier; Malarial fever; Catherine Malchi; Katherine Malchi; Marblehead; Marblehead Life Saving Crew; Marblehead lighthouse; Marblehead Lime Co; Marblehead quarry; John Marchin; Michael Marchin; Helen Marchky; Margaret Foley; Margaret Ollwell; Margaret Olwill; Anna Eliza Margin; George Margin; Wallace Marian; William Market; Marshal; Martin Electric Light & Power Co; Bridget Martin; Charles Martin; Charley Martin; Emmet Martin; F W Martin; Frank Martin; Frank Howard Martin; Fred Martin; Frederick (Fritz) Martin; Howard Martin; J Martin; J F Martin; James A Martin; John C Martin; Julie Amanda Martin; Mabel Martin; Will Martin; William Martin; William J Martin; Martin's confectionary; Annie Martizing; Annie Martuyck; Annie Martzing; Mary Virginia; Masonic Lodge; Masquerade ball; Mastodon's tooth; Mary Matchisko; Matilda; Andrew Matsko; John Matsko; Mary Matsko; Bea Matso; Beatrice Matso; Joe Matso; Russ Matso; Matso's Place; Matso's Place; The Lodge; Maud S.; Maurice B. Grover; May Flower; Bell May; Belle May; Captain May; Captain A T May; Ed May; Eddie May; Ellen May; John May; Mary Anna May; Tip May; Baby Mayer; Fred Mayer; Mayflower; John Maynard; McBrier; Margaret McBurney; Mort McBurney; Michael McCarthy; J McCloud; Maggie McCormick; Mary McCormick; Rev McCune; Reverend Robert McCune; McFall Bros & Hudson; Annie McGettigan; Bernard McGettigan; Dan McGettigan; Edward McGettigan; Fannie McGettigan; Joe McGettigan; Kate McGettigan; Katie McGettigan; Kittie McGettigan; Elizabeth McGinnity; Sarah McGory; Bridget McGurn; John McGurn; Mary McGurn; Russell McGurn; Thomas McGurn; Tom McGurn; Mary Anna McHale; Honora McInery; Thomas McKenna; Allen McKillips; Beatrice McKillips; Florence McKillips; Mary Augusta McKillips; Oscar McKillips; Sis McKillips; John McMahon; M McMahon; McMeens Post; W G McNelley; Alma McNelly; Honora McNewton; McNight-Smith Monumental Works of Norwalk; Honora McNulty; John McSweeney; Elisabeth McVeigh; Measles; Meat market; Mr & Mrs Meginnity; Flora Meginty; Anna Mehl; Gottlieb Mehl; William Mehl; Minnie Meirs; Carl Merkle; Charles Merkle; Eugene Merkle; Frederick W Merkle; Maria Merkle; Mary Merkle; Merriam & Gowen; E B Merriam; Jacob Merschel; Father Mertes; Rev J B Mertes; F Meyer; Fred Meyer; Mathilda Meyer; Oscar Meyer; Theresa Meyer; Minnie Meyers; Albert C T Michael; Chris Michael; Christ Michaelis; Christ Michaels; Grandma Michaels; Pauline Michaels; Theodore Michaels; George Michel; Helen Carrie Michel; Minnie Michel; Middle Bass Island; Middle Bass Light House; Middle Island; Middle Sister Island; Milan OH; Fannie Miles; Milk fever; Mill feed; Royal Millard; Adam Miller; Adam J Miller; Anna Miller; Carl Miller; Dora Miller; Dora C Miller; Elizabeth Miller; John Miller; Lizzie Miller; Margaret Miller; Mrs John Miller; Richard John Miller; Robert Miller; Sam W Miller; Charles Miner; Mineral State; Mischief; Catherine Mischler; Daniel Mischler; Elizabeth Mischler; John Mischler; Kate Mischler; Katherina Mischler; Lizzie Mischler; Mischler's market; Mischler's meat market; Eliza Mitchell; Moatz; Paulina Mock/Moeck; Mocking Bird; Pauline Moeck; Rose Pauline Moeck; Harry Molyneaux; Julia Monagan; Eliza Monaghan; Julia Monaghan; Mary Monaghan; Julia Monahan; Monarch Wine Co; Monarch Winery; George Monguns; Monk; Capt John Monk; Montmorency; Capt O Moore; Capt O E Moore; Capt Ort Moore; Captain Moore; Captain O E Moore; Captain Orton E Moore; Captain Ort Moore; Clara Moore; Mrs Captain Moore; Mrs Captain O E Moore; Mrs Ort Moore; O E Moore; Ort Moore; Rosette Moore; Annie Mootz; Catherine Mootz; D J Mootz; Earl Mootz; Elizabeth Mootz; Emma Mootz; Grace Mootz; Irene Mootz; John Mootz; Louis Mootz; Mrs William Mootz; Peter Mootz; Sarah Mootz; Sarah W Mootz; W Mootz; W E Mootz; Will Mootz; William Mootz; William E Mootz; George Morgan; Miss Morhart; Morning Lark; Aaron Wm Moross; Adolphus Moross; Elmer J Moross; Elmore Jos Moross; Erly Moross; Gonlor Moross; Gordon Moross; Hattie Moross; J C Moross; Jane Moross; Joe Moross; Joseph Moross; Julia Moross; Morrie Stephen Moross; Susan Morris; Paul Cross Morrison; Alice J Morross; Jane Morrows; H H Morton; Mortuary; Moses Murphy; Mosquito Yacht Club; Mosquitoes; Ethel Mott; Mrs W L Mott; Bertha Moysey; Elizabeth Moysey; Glenn Jay Moysey; J T Moysey; Jean Moysey; John Moysey; John T Moysey; Laura Hamilton Moysey; R R Moysey; Robert Moysey; Robert Floyd Moysey; Sallie Moysey; Sally Moysey; Sally D Moysey; W R Moysey; William Moysey; William R Moysey; Rosa Muerschel; Tim Mulheron; Municipal Water System; C A Munk; Murchel; George Murgeon; Lizzie Murgeon; Mary Murgeon; Catherine Murphy; John Murphy; John F Murphy; Kate Murphy; Margaret Murphy; Marian Murphy; Mary Murphy; Moses Murphy; Pat Murphy; Patrick Murphy; Elijah F Murray; Ellen Murray; John Murray; Lucy F Murray; Mrs L F Murray; Mrs Nellie Murray; Nelly Murray; Anna Murschel; Clara Murschel; Etta Murschel; Jacob Murschel; Rosa Murschel; Wilma Murschel; Music; Muskrats; Augusta Myers; Coradine Myers; Leroy Myers; Maimie Myers; Mary Myers; Minnie Myers; Robert Myers; Myrtle; Mystic
N
N Kelley & Co; N Kelley & Co  quarry; Joseph Nader; Naptha boat; Narrow gauge rail road; National Bar Association; Howard Navorska; Nebraska; Neff; C W Neuendorf; Mary Neuwalk; New York World; Georgia Newman; Casper Nielsen; Leonhart Nielson; Noble & Co; Edward & Carol Nofziger; James Nolan; Norma; Norman Kelley & Co; Jay Norris; North Bass Island; North Bass Wine Co; North Bay; North pond; North Quarry Lot; Northerner; Notary Public; Mary Nowak; Mary Nowalk; Peter Nowalk; Mary Nunsha,
O
Father O'Connell; John T O'Connell; Mary O'Rouke; Mary O'Rourk; Bridget O'Rourke; Catherine O'Rourke; Maggie O'Rourke; Marie O'Rourke; Mary O'Rourke; Oats; Oberlin College; Odd Fellows; Ogontz; Ohio Fish Productive Co; Alma Ohlamacher; Ohlemacher & Co; Ohlemacher Lime Co; Ohlemacher quarry; Amelia Ohlemacher; Arthur C Ohlemacher; Augusta Ohlemacher; Augusta Alma Ohlemacher,Bertha Wilhemina Ohlemacher; Ed Ohlemacher; Edward C Ohlemacher; Elizabeth Ohlemacher; Elizabeth Miller Ohlemacher; Fredericka Ohlemacher; Fredricka Ohlemacher; Fredrika Ohlemacher; George W Ohlemacher; H Ohlemacher; H S Ohlemacher; Henry Ohlemacher; Henry L Ohlemacher; Hon Frederick Ohlemacher; Irwin Ohlemacher; Mina Ohlemacher; Mrs H S Ohlemacher; Mrs Henry Ohlemacher; Philip Ohlemacher; Wilhelmina Ohlemacher; Old age; Old Stone Club; H V Oldfield; Mamie Oldfield; Oleomargine; Mr Olmsted; Mary Onke; Onward; Opera house; Opium and liquor cure; Ordinances; Christina Orman; Capt G W Orr; Captain Orr; Osceola; Ossifrage; Amanda Frances Ott; Anthony Ott; Anton Ott; Elisabeth Ott; Elizabeth Ott; George Ott; Gustav Ott; Rosa Elisabeth Ott; Ruth Adella Ott; L  J Outhermann; Robert Overcasher; Oyster supper
P
P. S. Marsh; Pacific; Betty Pape; Fritz Pape; Paralysis; Paralytic stroke; J H Parker; Hanna Parr; Hannah Parr; John Pashula; John Pashuta; Peter Passin; Mary Patranin; Anna Patras; Paule; Elizabeth Payne; Peaches; Edith Peacock; Pearl; Pears; Mary Peceni; Amelia Peck; Marvin E Peck; Peddlers; Pelee Island; Pelee Island Telegraph Cable; Captain Pellet; Will Pellet; Capt J H Pellett; Capt James H Pellett; Captain Pellett; Florence Pellett; J H Pellett; James Pellett; James H Pellett; Jessie Pellett; Mrs James Pellett; Mrs William Pellett; Will Pellett; Pelton; Perch; James T Perryson; Mary Perryson; Sarah Perryson; Anna Peters; Carlie E Peterson; Carrie Peterson; Carrie/Carlie Peterson; Mary Petisenge; Anna Petrus; Teana Pfeil; Trina Phell; C Phelps; Rev Phelps; Rev C Phelps; Rev C H Phelps; Rev C P Phelps; Photographer; Rev D E Pierce; Pleasure Club of Kelley's Island; Maud Ploeger; Richard Ploeger; Robert F Ploeger; Plummer; Plums; Plymouth; Pneumonia; Frank Pohorence; Laura Jean Pohorence; Point Au Pelee; Point au Pelee Island; Point aux Pelee; Point Marblehead; Police watch; Polocks; Pond law; Pool hall; Poplar tree; A W Porrers; Port Clinton; R E Porter; Possum; Post & Co; Post and Lewis; Post Boy; Post Master; Post Office; Postmaster; Poultry; Pound boats; Pound law; Poverty social; Pride of the West flour; Elizabeth Pringnitz; Henry Pringnitz; Herbert Pringnitz; Mary Pringnitz; Sarah Pringnitz; Progress Club; Progressive Euchre Club; Prohibition; Provost; Pt au Pelee; Pulmonary disease; Pulsometer pump; Put-in-Bay; Put-in-Bay Ice Boat Club; Put-in-Bay town hall; Pyaemia
Q
Quarry stone; West Bay Quarry; Quarry-black blasting powder; Quarry-blasting; Quarry-block stone wagon; Quarry; channeling machines; Collins Quarry; Quarry-company store; Quarry-flux stone; Quarry-hoisting machine; Quarry-Italian workers; Kelley Quarry; Quarry-limestone; Quarry-N Kelley & Co; Norman Kelley Quarry; North Quarry; north side Quarry; south Quarry; south side Quarry; Quarry-stone; Quarry-stone trade; West Quarry; west bay Quarry; C Quinn; C B Quinn; Caroline Quinn; Charles Quinn; Charles F Quinn; Charley Quinn; Charlie Quinn; Chester Quinn; Eliza Quinn; Elizabeth Quinn; Henry Quinn; James Quinn; Jane Quinn; Mary Jane Quinn; Thomas Quinn
R
R. B. Hayes; R B Hayes Museum; Margaretta Raab; Will Radcliffe,Railroad; quarry Railroad; Bessie Ramsey; Lee Ramsey; W D Ramsey; Annie Randar; Ranft Winery; Albert Ranft; Barbara Ranft; Barbara Elizabeth Ranft; Catherine Ranft; Corina Ranft; Edna Bell Ranft; Elizabeth Ranft; Elizabeth P Ranft; Frank Jesse Ranft; George Ranft; Helen Ranft; Jacob Ranft; John Ranft; Katherina Ranft; Leana Ranft; Lena Ranft; Leonard Ranft; Leonhard Ranft; Lizzie Ranft; Maggie Ranft; Mrs John Ranft; Dr  J B Rankin; Rattlesnake Island; Jack Raynor; Reading Room; Andrew Reddinger; Mary Reddinger; Dr  Reed; Cornelia Regotti; Louis Regotti; Palmo Regotti; Henry Rehberg; Sophia Rehberg; William Rehberg; Lena Rehbert; Lena Rehburg; Sophia Rehburg; Charles Reichlin; Rev Reichlin; Rev C Reichlin; Rev Charles Reichlin; George Reider; Charles Reidlin; Frank Reidy; Reindeer; F Reinhardt; W Reinhart; W H Reinhart; Charles Reinheimer; Eliza Reinheimer; Frank Reinheimer; Frederick Reinheimer; Ida Reinheimer; J B Reinheimer; Jessie Lizzie Reinheimer; John Reinheimer; John B Reinheimer; Laura Reinheimer; Mrs A Reinheimer; Walter Frank Reinheimer; Reinheimer's dock; Reinheimer's store; Charles Reishlin; Prof John Reising; Christine Reisth; Emma Reiter; George Reiter; Mathilda Reiter; Sophie Reiter; Elizabeth Remmschneider; Elizabeth Remmschwein; Caroline Renter; Frederick Carl Renter; Lena Renter; Mr Renter; Matheas Resch; Rev C S Rettig; Rev L Rettig; Rev L C Rettig; Carl Reuter; Rev Reuter; Bell Reynolds; Belle Reynolds; Mary Belle Reynolds; Oswen Reynolds; Owen Reynolds; Lewis Rhein; Louis Rhein; Rheumatism; Calvin Rhoads; Mable Rhoads; Russell Rhoads; Lewis Rhyne; J L Richardson; W E Richardson; Riche; Richmond; Prof Dean Richmond; Albert/Alfred Riedy; Anna Riedy; Bertha E Riedy; Dora Riedy; F J Riedy; F Joseph Riedy; Frances J Riedy; Frank Riedy; Frank J Riedy; George Robert Riedy; John Riedy; Magalena Riedy; Mary Riedy; Otto C Riedy; Pauline Riedy; R J Riedy; Robert Riedy; Elisabeth Riemenschneider; Leah G Riggs; John Ritter; Rival; Riverside; Robert Wayne Co; Charlie Robertson; Jessie Robertson; Jessie C Robertson; Jessie Robertson; Mary Robinson; Mattie Robinson; Rockport; Mary Roesch; Amelia Rohrs; Elizabeth Rohrs; Frederick Rohrs; Lizzie Rohrs; Maria Rohrs; Mary Rohrs; Sophia Rohrs; William H Rohrs; Roland; Rolling mill; Roman Catholic Union; Andrew Roman; Anna Roman; John Roman; Joseph Roman; Mary Roman; Michael Roman; Mike Roman; Jacob Romeis; Mr Rosenzqeig; Dorothy Rosswurm; Emma Rosswurm; Jennie Rosswurm; Minnie Rosswurm; Phillip Rosswurm; William Rosswurm; Minnie Rosworm; Phillip Rosworm; C C Roswurm; Henry Roswurm; Irma Martha Roswurm; Ruth Roswurm; Charles Rueblin; Bertha Rumsen; Jessie C Rumsen; John F Rumsen; George Runkle; Rush winery; Hon Jacob W Rush; Jacob Rush; Jacob W Rush; State Senator Jacob Rush; Lydia J Ryall; Eliza Ryan; Rye
S
S. E. Sheldon; Mary Sabo; Sadie Gee; William C Sahnke; Sakie Shepherd; Saloon; Stoll's Saloon; Salvation Army; Sand beach; Sandusky Business College; Sandusky Fish Co; Sandusky Lime Co; Sandusky marine hospital; Sandusky Opera House; Sandusky Turngemeinde; Elizabeth A Sanman; Joseph Santry; Saugers; Sault St Marie; Sault Ste Marie; Doris Saylor; Thomas Saylor; John Schaedler; Siemon Schacht; Schaedler & Rhein; Schaedler & Rhein Wine Cellar; Schaedler & Rhein Winery; Schaedler (August) Winery; Schaedler (John) Winery; A Schaedler; Albert Schaedler; Andrew Schaedler; August Schaedler; Christina Schaedler; Clara Schaedler; David Schaedler; Fred Schaedler; Frederick Schaedler; Gertie Schaedler; Gertrude Schaedler; Howard Schaedler; John Schaedler; Julia Schaedler; Mary Schaedler; Maud Schaedler; P Schaedler; Philip Schaedler; Rose Schaedler; Rosina Schaedler; Schardt House; Schardt Winery; A Schardt; Adam Schardt; Fred Schardt; Frederick H Schardt; Geo P Schardt; George Schardt; Jacob Schardt; John Schardt; Kathlena Schardt; Lillian Schardt; Mary Anna Schardt; Mrs G P Schardt; Olga Lena Schardt; Paulina Schardt; Pauline Schardt; Fred H Schardt; Schardt's Hotel; Schardt's party rooms; Schardt's Pavilion; Arnold Scheele; Caroline Scheele; H F Scheele; Henry Scheele; Mrs H F Scheele; Raymond Scheele; Elizabeth Schelb; Robert Schelb; August Schettler; Scheufler & Curth; Schlesselman; F Schlumbaum; Fred Schlumbohm; Katie Schlumbohm; Richard Schlumbohm; Charles Schmidt; Calvin Schneider; Dr  Schneider; Rev Schneider; August Schnittker; Charles Schnittker; Lydia Schnittker; Robert Schnittker; William Schnittker; Schnoor; School; School board; School commencement; School District No. 2; School teacher; School vacation; Catholic School; common School; grammar School; high School; intermediate School; No. 1 Primary School; primary School; Primary No. 2 School; Primary No. 3 School; south side primary School; Sunday School; School teacher; Henry Schoolcraft; Katie Schrank; Adam Schultz; Bertha V Schultz; Minnie Schultz; Robert Schwartz; Scott Law; Sea Foam flour; Sea sick; James & Martha Seaman; Seasickness; Bertha Seaton; Hattie Seaton; James Seaton; Lida Seaton; Turner Seaton; Seeholzer & Son Winery; Charles Seeholzer Jr; Adolph Seeholzer; C H Seeholzer Carl Jr; Seeholzer; Charles Seeholzer; Charles Seeholzer Jr; Clara Seeholzer; Henry Carl Seeholzer; Hugo Seeholzer; Sophia Seeholzer; Theresa Seeholzer; Thresa Seeholzer; Thresio Seeholzer; Joseph Seibel; James Selfe; Thomas Selfe; K E Sennhenn; Ana Sennish; Anna Sennish; E [Elko] Sennish; Ella Sennish; Ellen Sennish; George Sennish; John Sennish; Mary Sennish; Joe Senwick; Alida J Seton; Arthur Seton; Clifford Seton; Harry H Seton; Hattie Seton; Hattie W Seton; J Seton; James Seton; Minerva Seton; Minnie Seton; Mrs A J Seton; Mrs H W Seton; Mrs James Seton; Sewing Society; Burt Seymour; Burt M Seymour; Richard Sharp; Shay locomotive; Ephraim Shay; John Sheadler; Dr  Sheldon; Governor of New Mexico-Sheldon; Mrs Sheldon; Charles Shepherd; Clara Belle Shepherd; Mary Shepherd; Francis E Sheridan; Frank Sheridan; John Sheridan; Robert Sheridan; John Shetler; William Shockcor; Annie Shockor; Clarence A J Shockor; Shoe store; Shoemaker; Emma Shuart; Emma L Shuart; Emma S Shuart; Adam Shultz; Lloyd Shultz; Sidewalks; Signal Station; Silver King Arizona; Frederick Simon; Lena Simon; W A Simpson; Joe Sites; Mary Sites; Skating; Skeleton; Skittle alley; Captain Slackford; Slanty house; Bridget Slavin; James Slavin; James F Slavin; Katherine Slavin; Katie Slavin; Kittie Slavin; Nellie Ellen Slavin; Patrick Slavin; Sleigh; Sleigh ride; Sleighing; Sloane House; Rush Sloane; Sloss Marblehead Lime Co; Sol Sloss; Small pox; George N Smalley; Smith & Bauman; Smith Bros; Alberta J Smith; Allie Smith; Byron Smith; Capt C E Smith; Capt P H Smith; Caroline Smith; Caroline Jane Smith; Catherine Smith; Celia Smith; Charles Smith; Clarence Smith; Claude Smith; Ed Smith; Emma Smith; Fannie Smith; Florence C Smith; Grace W Smith; Ida Smith; James Smith; James Smith Jr; John Smith; John Smith Jr; Kate Smith; Katie Smith; L Smith; L P Smith; Lewis Smith; Luther Smith; May Smith; Mrs Thomas Smith; Nicholas Smith; Nick Smith; Nicklos Smith; Oreal J Smith; Patrick Smith; Patrick S Smith; R A Smith; Thomas Smith; Warren Smith; William Smith; William H Smith; Willie Smith; Wm J Smith; Smith's fish shanty; Smoke house; Smoking; Snake; Snake; blue racer; Snow Bird; Allen F Snyder; Allen Frazier Snyder; Clara Snyder; Dr; Snyder; Dr  M H Snyder; Dr  Morris Snyder; Dr  Morris H Snyder; Elsie Snyder; M H Snyder; Rev Snyder; Theresa Snyder; Mary Sobo; Social hall; Social Turners; Soo canal; Soo locks; South side crusher; Dr  Jane Spaulding; J E Spaulding; Annie Spies; Spinal meningitis; Herbert C Spore; Rev Dr  Sprecher; Squab; St. Ignace; St Louis Mo.; St Patrick's Day; Martha Ellen Staffs; Michael Staffs; Andrew Staffs/Staffo; Stage curtain; Stang Brewery; Frank Stang; John Stang; Stang's brewery; John Stanton; Cleo Starkweather; Louis Starkweather; State Fish Hatchery; State Horticultural Society; State Lunatic Asylum; State Medical Society; Station House; Steamboat cards; Steamboat rates; Stearns and Kelley; Ellen Stefenish; Ana Stefensin; Ella Stefinisin; Illa Stephanson; Catherine Sterenberger; Sternberger Saloon; Caroline Sternberger; Carrie Sternberger; Carrie W Sternberger; Catherine A Sternberger; Charles Sternberger; Charles W Sternberger; Christian Sternberger; Frank Sternberger; William Sternberger; Sternberger's saloon; Sternberger's vineyard; C W Sternenberger; Caroline Sternenberger; Catherine Sternenberger; Charles Sternenberger; Charles W Sternenberger; Martha Sternenberger; William Sternenberger; Ella Steve; Stephen Stiger; James Stock; John Stock; Mike Stoffa; Mary Stoffel; Stokes Winery; Frank Stokes; Honora Stokes; James Stokes; John Stokes; John Stokes Jr; Maggie Stokes; Nora Stokes; William P Stokes; A Stoll; Andrew Stoll; August Stoll; Elizabeth (Else H) Stoll; Lena Stoll; Stone; Stone mason; Stone wall; Store; Store on the Corner; Drug Store; Catherine Strasser; Celia Strasser; Frances Strasser; George Strasser; Straw; Freddie Stumpf; Frederika Stumpf; Sturgeon; Sub-marine cable; Succotash; Sugar; Caroline Suhr; Carrie Suhr; George Suhr; Herman Suhr; Louisa Suhr; Theodore Suhr; Sullivan; Gus Sun Sr; Sunrise Point; Thomas Sweeney; Sweet Valley; Sweet Valley Inn; Sweet Valley Wine Co; Salong Swobe; Syracuse; Maria Szobo
T
Caroline Tabla; Caroline Tabler; Taubert Grocery Store; Theo F Taubert; Caroline Tauble; Tax collector; Taxes; Teacher; Telegram; Telegraph; Telegraph cable; Telegraph office; Telephone; Tempest; Ted Terry; Katie Theilemann; Elias Thomas; Theresa Thorndale; Tidal Wave; Charles Tierney; Levi Till; J K Tillotson; Eva Tillyer; Harry J Tillyer; Timothy House; Timothy House Ministries; Titus Road; Alonzo Titus; Angeline Titus; Anna Titus; Annie Titus; Charlotte Titus; Eliza Titus; Eva H Titus; Harriet Titus; James Titus; James E Titus; Jared Titus; John Titus; Julianna Titus; Lewis Titus; Nancy Titus; Nancy C Titus; Warner Titus; Warren Titus; William Titus; Tobacco; Toboggan slide; Tomatoes; Tommy the Peddler; Torrent; Hon Amos Townsend; Emma Treischman; Henry Treischman; Julia Treischman; Katherine Treischman; Henry Treischmann; Henry Treischmann Jr; K H Treischmann; Treischman's market; Albert Trieschman; Clara Trieschman; Emma Trieschman; H Trieschman; Helena Trieschman; Henry Trieschman; Henry A Trieschman; Katherine Trieschman; Henry Trieschmann; Katherine Trieshmann; Edna Trischmann; True & Co  flour mill; Elva L Tulian; Turkeys; Tuttle; Ann Twidney; Mrs A Twidney; Twine shanty; Typhoid Fever; Tyrolean Warblers troupe
U
Umatilla Indian Medicine Co; Unity Club of Cleveland; Ed Upp; Edwin Upp; Elizabeth Upp; H B Upp; Henry Upp; John Upp; John W Upp; Mrs H B Upp; Norman Upp; Norman C Upp; William Upp; Upp's Hotel; Upp's house; Walter G Uridge
V
VFW Post 8908; Annie Valenti; John Valenti; Peter Valenti; Van Dorn Ironworks Co; Hattie Van Nostrand; Norman Van Nostrand; Libbie Van Wovern; Cornelius Vanderbilt; Agnes VanDusen; William F VanDusen; Jane Vanduzen; VanEpps; Annie Vanjo; Harriet VanNostrand; Lydia VanNostrand; Norman VanNostrand; John VanWoverrn; Nanette VanWoverrn; Phillipina VanWoverrn; Willie VanWoverrn; Elizabeth Vassel; George Vassel; John Vassel; Charles Veitz; Etna Veitz; Venus; Maria Vesseng; Victor bicycle; Charles Viets; Chas J Viets; Henrietta Viets; Willie Viets; Charles Vietz; Elsie Vietz; Etta Vietz; Henrietta Vietz; The Villa; Village Pump; Vixen; Henry Vogt; Carrie Voight; John Voight; Appolena Voigt; Ed Voigt; Henry Voigt; Jacob Voigt; Anna Martha Vollmer; J Vollmer; Jacob Vollmer; John Vollmer; John A Henry Vollmer; Katie Vollmer; Lena Vollmer; Magdalena Vollmer; Paul Vollmer; Susan Vollmer; William Vollmer; John Volmer; John SVolmer; Magdalena Volmer; Salina Volmer; Selina Volmer; Volunteer; John Gustaf Von Wovern
W
Christian Wahl; Jacob Wahl; Minnie Wahl; James Wait; Frederick P Waite; Lissa R Waite; Melissa Waite; Mrs F P Waite Waite; Wall & Himmelein; Howard Wall; Elizabeth Wallace; Margaret Wallace; Wallula; Walter H. Stone; U L Ward; Addie Ward; Alice Ward; Ana E Ward; Burt Ward; Burt A Ward; Burton Ward; Charlotte Ward; Charolie Ward; Clarence Ward; E Ward; Ed Ward; Ed Ward Jr; Edmund Ward; Edward Ward; Edward W Ward; Emily Ward; Grace Ward; Herb Ward; Hettie Ward; Hettie E Ward; Jennie Ward; Kate Ward; Lissa Ward; Mary Ward; Maud Ward; Maude Ward; Melissa Ward; Mrs Burt Ward; Mrs Ed Ward; Mrs N C Ward; Mrs U L Ward; Mrs U W Ward; Nancy Ward; Nancy Titus Ward; Postmaster Ward; Stuart Augustus Ward; U L Ward; Uri Ward; Uri L Ward; Uriah L Ward; W S Ward; Wardwell channelers; Wardwell channeling machines; Warner; Thomas Warren; Water Department; Watkins & Titus; Barbara Watkins; Barbara Mary Watkins; Charlotte Watkins; Earl Joseph Watkins; George Watkins; George EWatkins; George Ellen Watkins; James Watkins; Juliana Watkins; Julianna Watkins; Kim Watkins; Lotta Watkins; Lottie Watkins; May Watkins; Mehitabel Charlotte Watkins; Rob Watkins; Robert Wayne; Elizabeth Webb; W S Webb; William S Webb; Wehrle; Andrew Wehrle Jr; A Wehrle Jr ; A Wehrle Sr; Andrew Wehrle Jr; Andrew Wehrle Sr; Captain Wehrle; Wehrle's dancing hall; Charles Weiland; Jeanne Weitman; Christine Weller; Godfrey Weller; Jacob Weller; Mary Katherine Weller; Rosa Weller; William Weller; Wells winery; West Bay; West Bay Inn; Eliza West; Mrs Fred Westerhold; Western Reserve Historical Society; Weston; Christina Wetzel; Laura Wetzel; Louis Daniel Wetzel; Michel Wetzel; William Wetzel; Wheat; Captain Whetstone; White Wings; Superintendent of School White; Thomas H White; Minnie Whitmill; Delilah Whitney; Ella Whitney; Ernest Whitney; H R Whitney; Mrs E E Whitney; Colonel Whittlesey; Adolph Wichman; Christina Wichman; Wilcox; Elizabeth Wilcox; Walter G Wilds; Williams Telephone Co; Phillipina Williams; Libbie Williamson; Capt T E Wilson; Ida Wilson; Fred Windisch; Windmills; Wine; Wine casks; Wine cellar; Wine fraud; Wine labels; Wine Law; Wine shipment; Wine truck; adulterated Wine; artificial Wine; brandy Wine; Carte Blanche Wine; Catawba Wine; Wine; champagne; Claret Wine; Concord Wine; Delaware Wine; Elvira Wine; Wine; Island Queen; Wine; Ives' Seedling; Wine; La Reine de l'Isle; Wine; La Reine De La Isle; Muscatel Wine; Norton's Seedling Wine; Norton's Virginia Wine; Norton's Virginia Seedling Wine; Port Wine; Red Wine; Red Concord Wine; Rex Champagne Wine; Riesling Wine; Sherry Wine; sweet Wine; Sweet Catawba Wine; still Wines; Wing & Pellet; J E Wing; Alma Winzeler; Elisabeth Winzeler; George Winzeler; Wm. Rudolph; Caroline Wohlfarth; Caroline Wolfarth; Carrie Wolfarth; Woodford & Hamilton; Woodford and Stokes; Aurilla Woodford; C Woodford; Capt J T Woodford; Charles Woodford; Cord Woodford; Elva Woodford; Frances M Woodford; Frank Woodford; Frank D Woodford; Harriet Woodford; Homer Woodford; J E Woodford; J T Woodford; Jesse E Woodford; John Woodford; John T Woodford; Mrs J T Woodford; Orton E Woodford; Rosette Woodford; Sarah Woodford; William Woodford; Mary Wordon; World's Columbian Exposition; World's Fair; WPA; Prof G F Wright,
XYZ
Yacht; Steve & Kathleen Yatson; Yellek; Charles Yingling; George Yoskovits; Young America; Young People's Mutual Aid Society; Young Peoples' Mutual Aid; Younglove & Massie; M C Younglove; Moses Younglove; Moses C Younglove; Fredericka Youngman; YPMA; Rudolph Yucker; Zebra mussels; Leah Zehinger; A Zehringer; Aloysius S Zehringer; Anslem Zehringer; Magdalena Zehringer; Mary Zehringer; Mrs A Zehringer; Possom Zehringer; Rev Zeigler; Zero; Annie Zimbauer; Helen Zinney; Lena Zinstock; Zion United Methodist Church; Fred P Zollinger; R Zucker; Annie Zyeths; Joe Zyeths; Mary Zyeths